Today's eyewear offers more than vision correction. Your lenses can be customized with treatments and tints to make your vision more comfortable and convenient. Opticians can add a blue light filter to your prescription lenses to protect your eyes from blue light. Or, you can reap the same blue-light-blocking benefits with non-prescription lenses.
Like sunglasses, blue light glasses can have long-term eye health benefits. But should you wear them all the time?
You can wear your blue light glasses all the time, just like you can wear sunglasses all the time. But when and where you wear your eyewear can make a difference in the quality of your vision.
What Is Blue Light?
The world is full of light, some visible to our eyes and some invisible. Blue light is part of the visible light spectrum (a small section of the electromagnetic spectrum) at the end, right next to ultraviolet (UV) light. Many people are familiar with UV light because of sun damage: it's why we wear sunscreen and sunglasses. Blue light is less powerful than UV radiation but can still be dangerous in high amounts.
The sun is our primary source of blue light. Our atmosphere protects us from the most harmful UV radiation by absorbing all UVC and some UVB rays. Blue light is scattered by the atmosphere, which is why the sky looks blue.
Although the sun is our most significant source of blue light, many artificial sources exist, like digital screens, light bulbs, and LED lights. Unsurprisingly, these sources are much weaker than the sun. But we encounter many of them throughout our day and tend to engage them up close—especially with digital screens.
We spend hours on our phones, computers, and tablets, usually viewing them too closely. Over time, our exposure to blue light can lead to cumulative damage.
How Blue Light Affects Eyes
Just like there are benefits to sun exposure, blue light can also benefit your health. Some benefits of blue light include:
Boosting cognitive function & memory
Helping treat seasonal depression
Supporting daytime alertness
But too much long-term exposure may increase the risk of eye problems. Current studies are still inconclusive as to whether low-intensity artificial sources pose a risk. The concern comes from a lifetime of exposure to blue light.
Structures at the front of the eye absorb UV light, preventing it from completely reaching the retina and the back of the eye. Blue light, however, easily passes through and is absorbed by light-detecting cells in the retina.
Years of cumulative exposure to blue light may increase the risk of eye damage, including macular degeneration. However, as only limited, small-scale studies have been performed, the results are unclear.
Blue light is also a factor in digital eye strain. People suffering from digital eye strain can experience blurry vision, dryness, tired eyes, or neck and shoulder aches.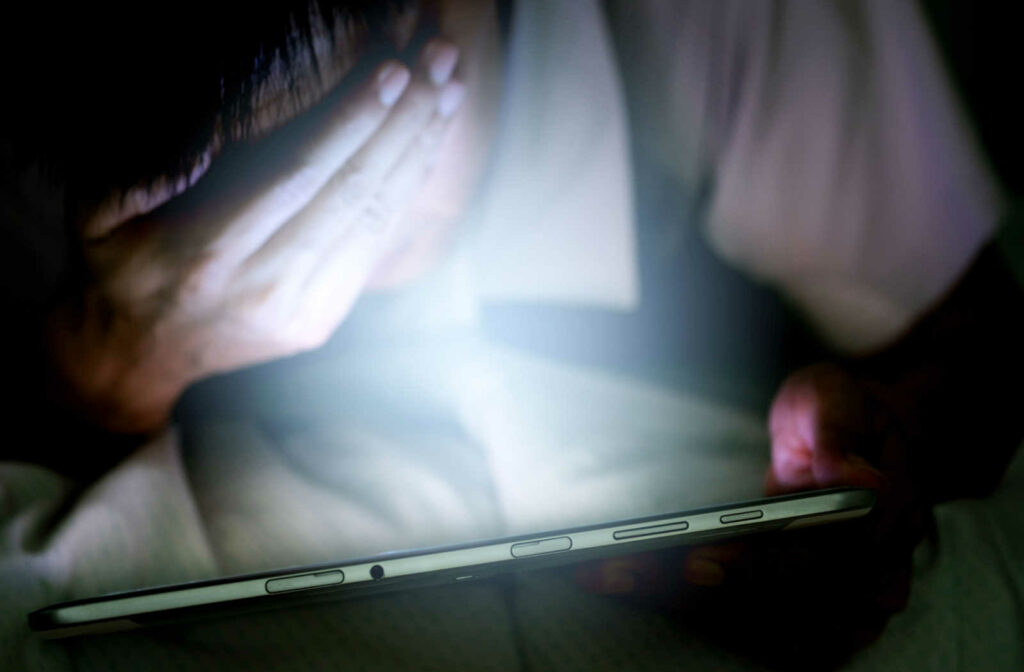 When to Wear Blue Light Glasses
Blue light is everywhere, yet blue light filters are usually associated with computers. People also use other blue light-emitting digital devices—such as smartphones—for similarly long hours or multiple times daily. When you use your phone or tablet regularly, there are benefits to slipping on blue light glasses.
Adding a blue light filter in the hours before bed can support quality sleep. Blue light prevents the release of melatonin, the hormone responsible for making us feel drowsy. A dose of daytime blue light can help you feel alert, perking you up like a cup of coffee. But evening or nighttime exposure can trick your body into thinking it's daytime.
Putting on your blue light glasses in the evening or viewing your phone before bed can help keep melatonin production regular. A consistent sleep cycle can improve sleep, and eliminating late-night blue light can help.
When to Take off Your Blue Light Glasses
Sometimes, wearing blue light glasses may have more disadvantages than advantages. Like safety goggles or sunglasses, blue light glasses can offer the most benefits when paired with a related visual task.
Blue light glasses filter blue light, making colors appear more yellowish. Although, how much color is altered can depend on the quality of the filter, as many blue light glasses have a minimal impact on color vision.
Blue light glasses may have some benefits for non-digital viewing. Fluorescent and LED light sources emit blue light. But typically, these sources are in the background, not directly within our line of sight. It's also a general eye health tip to never stare at a light bulb for long periods—even when wearing blue light glasses.
You can wear your blue light glasses while binging a favorite TV show. But you may be more comfortable watching glasses-free at a movie theater—especially if the movie is in 3D. Additionally, getting some distance from your TV (usually at least 8–10 feet) can help limit your exposure to blue light and make for a more comfortable viewing experience.
Is It Bad to Wear Blue Light Glasses When Not Looking at a Screen?
Wearing blue light glasses when not looking at a screen is generally unnecessary and may not provide any tangible benefits. Blue light glasses are designed to filter out a portion of the high-energy, short-wavelength blue light emitted by electronic devices.
While prolonged exposure to screens may lead to eye strain and disrupted sleep patterns due to blue light, these issues are not prevalent in everyday activities that do not involve screens.
Customize Your Lenses
Whether you're looking for prescription or non-prescription blue light glasses, we can help you sort out the differences. Knowing when to wear your glasses is important, but we also want you to get the most out of your eyewear. Talk to your optometrist about your daily visual needs, and we can help you determine if a blue light filter may benefit you.
Book an appointment at Park Slope Eye today, and we can personalize your eye care.