Nobody likes eye allergies, but many people suffer from them regularly. If you experience eye allergies, you're probably wondering about how to deal with their symptoms. Not to worry; we're here to provide you with useful knowledge you can use to alleviate the discomfort your eye allergies cause.
You don't have to ignore your allergies until your next eye exam! Just check out the following list of tips so that you can start dealing with your symptoms proactively.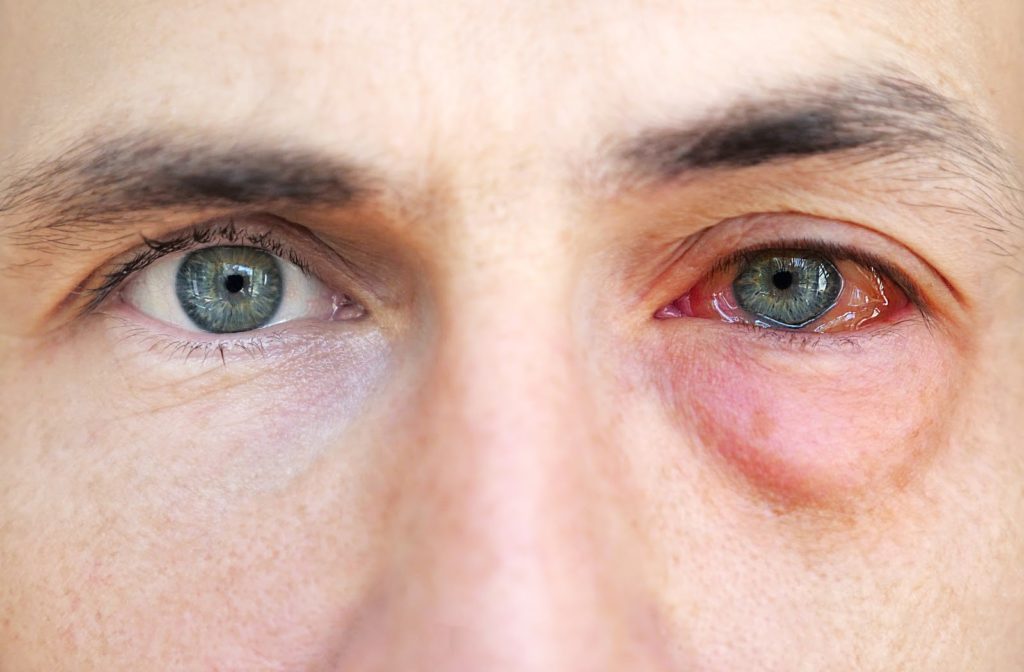 Different Eye Allergies Require Different Treatments
Eye allergies come in several different forms. We've identified a few of the most common ones below.
Allergic Conjunctivitis (Seasonal or Perennial)
This is the most common type of eye allergy by a wide margin, so let's deal with it first. Allergic conjunctivitis is usually caused by airborne plant pollens and has the following symptoms:
Clear or watery discharge from the eyes
Burning sensations
Redness around the eyes
Itching
People with allergic conjunctivitis may also notice chronic dark circles under their eyes and increased sensitivity to light. Seasonal allergic conjunctivitis can affect people in fall, summer, or spring—since different plant pollens will be in the air during each season. Perennial allergic conjunctivitis occurs throughout the year, but normally presents milder symptoms.
If you think you might have allergic conjunctivitis, resist the temptation to rub or scratch your eyes. Doing so can cause particles on your hands to move into your eyes, increasing your risk of infection and making your already irratated eyes feel worse. We also recommend using glasses instead of contacts, limiting your time outside to reduce contact with allergens, and using cold compresses on the affected area.
If you can't reduce the symptoms of allergic conjunctivitis on your own, consult your optometrist. We can help you by providing artificial tears to dilute the allergen and reduce its effects.
Vernal Keratoconjunctivitis
This allergy causes itching as well, but is considerably more serious than allergic conjunctivitis. Vernal keratoconjunctivitis can negatively affect your vision if left untreated. Additional symptoms include:
Increased tear production
The appearance of thick mucous in or around the eye
The sensation of having foreign matter stuck in the eye
Increased sensitivity to light
Vernal keratoconjunctivitis occurs primarily in young men and boys. It is also likely to present alongside eczema or asthma, and symptoms can occur throughout the year—although they tend to become worse in specific seasons.
Antihistamines are effective in treating mild to moderate forms of vernal keratoconjunctivitis, but severe cases may require topical steroids. If you suspect that you have this type of eye allergy, speak to your eye doctor.
Atopic Keratoconjunctivitis
The symptoms of atopic keratoconjunctivitis are nearly identical to those of vernal keratoconjunctivitis. However, atopic keratoconjunctivitis is more likely to occur in older patients—again, primarily male ones.
Patients who suffer from these allergies may find that their eyes produce thick mucous while they are sleeping, causing their eyelids to stick together overnight. Long-term treatment by an optometrist is usually required to prevent these allergies from scarring the cornea and causing permanent damage.
Contact Allergic Conjunctivitis
This form of conjunctivitis occurs when contact lenses or naturally-occuring proteins in tears irritate the eye. It's symptoms are identical to seasonal and perennial allergic conjunctivitis, but they are more likely to appear when wearing or changing contacts.
Giant Papillary Conjunctivitis
The last type of eye allergy on our list is a more severe form of contact allergic conjunctivitis, which causes fluid sacs to form on the inner eyelid's upper lining. It can cause any of the following symptoms:
The feeling of a foreign object inside the eye
Unusual discomfort while wearing contact lenses
Blurry vision
Eye discharge in the form of mucous
Excessive tear production
Itchiness
Puffy eyes
People with these allergies should seek treatment from their optometrist, who will likely begin by using mast cell stabilizers and other topical medications.
General Tips for Managing Eye Allergies at Home
Your optometrist will know best how to treat the specific eye allergies you have. However, there are also numerous things you can do by yourself to reduce allergy symptoms and prevent them from becoming more disruptive.
Use air conditioning instead of open windows and fans, which can circulate allergens
Protect your eyes with sunglasses and eyeglasses when you go outside
Use a dehumidifier at home, and clean the surfaces in your kitchen and bathroom often
Use a mop instead of sweeping when cleaning the floor
Put covers on your bedding to deter dust mites
These strategies will help prevent allergens from collecting around you and entering your eyes.
Don't Let Eye Allergies Get the Best of You
There are many ways to prevent eye allergies and reduce their effects—from simple at-home strategies to medications and ocular treatments. Use what you've learned here to take your life back from eye allergies, and seek help from your optometrist if you feel like you need support.